PALTOWN's Community Leadership Program
Our community leaders are the heart and soul of our work. These patients and caregivers manage the more than 120 groups in our colorectal cancer community COLONTOWN, shape our Empowering Patient Leaders Workshops, and research to deliver the Clinical Trials Education that PALTOWN is known for. Some of our Leaders also serve as Deputy Mayors on the COLONTOWN Management Team.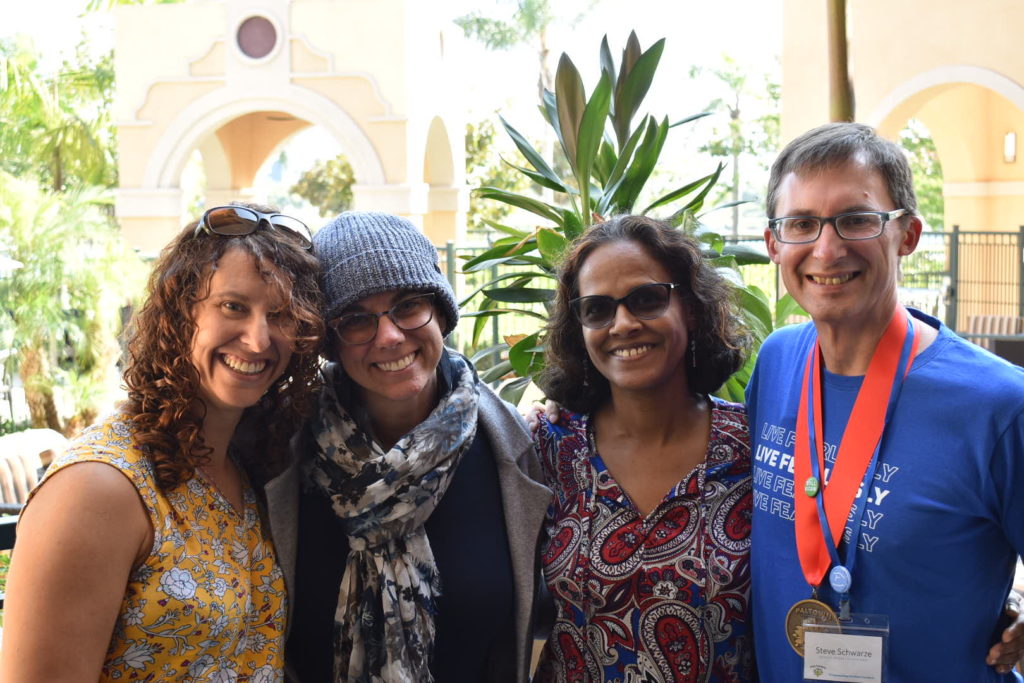 2020 Community Leaders Program Sponsors
We are grateful to the Colon Cancer Coalition and the Lu Family Fund for recognizing our  extraordinary group of Community Leaders, all giving back through their commitment to the support and education of their "neighbors."
COLONTOWN Community Leaders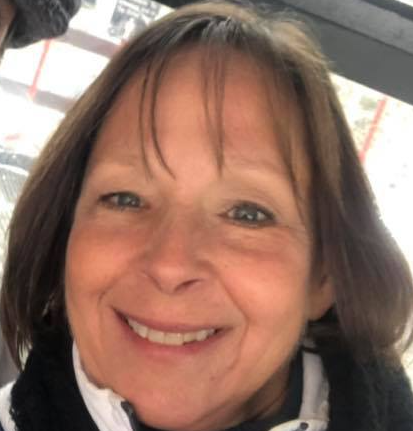 Kim Austin
Deputy Mayor, Community Leader
I am a Stage IV colorectal cancer survivor, diagnosed in 2013. I've been part of the COLONTOWN community for more than four years. After joining, I quickly took on leadership roles. I serve on the COLONTOWN Cabinet as a Deputy Mayor, am the Community Leader for our BLUE LIGHT SPECIAL COMMUNITY and am also a Neighborhood Host for numerous groups. I have attended and helped present at all of PALTOWN's Empowered Patient Leader Workshops.
COLONTOWN has given me a voice and a purpose that I never dreamed possible. Helping others "Find their people" is a passion.

Amy Basner
Community Leader
I joined COLONTOWN because I was looking for support for myself and my husband, who had been diagnosed with Stage 2 colon cancer. I have enjoyed getting to meet everyone in COLONTOWN and especially liked attending my first Empowered Patient Leader Workshop this summer in Minneapolis. I'm now serving as the Deputy Mayor for our Spiritual Enclave. I'm married to Tim Basner and have 2 adult age kids, Rebecca and Jimmy. In my spare time I like to get together with friends, travel when I can and read books. I have a huge passion for helping people and helping animals. Our family volunteers for a local dog rescue helping pregnant mommas, puppies or dogs that have a medical issue that need special care. My family will tell you I love to meet people and talk to them. I look forward getting to know more people and helping out as I can.

Joe Bullock
Community Leader
In August of 2018, a couple of months after being diagnosed with stage 3b colorectal cancer, I started to reach out online to get additional support with my cancer diagnosis. I found COLONTOWN after hearing Charles Griffin Jr. talk about it on a podcast. After the podcast, I joined COLONTOWN and gained support from many of its groups. Charles was one of the first members who encouraged me to continue to ask for support and seek help. A few months ago I completed PALTOWN's Empowered Patient Leaders program. In early 2021,  I had been NED (No Evidence of Disease) for a few months and wanted to find a way to give back to a community that had given so much to me. I am now serving as Community Leader for COLONTOWN Junior, serving the families of pediatric colorectal cancer patients.  I look forward to continuing to support COLONTOWN and its members in the future.

Dr. Leslie Cloud
I am a practicing physician and a proud volunteer in COLONTOWN.  I currently serve as the Community Leader for health care providers within COLONTOWN, including the neighborhood for both physician-patients and nurse-patients, as well as the neighborhood for consulting physicians.
COLONTOWN is a resource unlike any other that I have encountered in my professional career or personal life.  COLONTOWN is not just another support group—it is a transformational online community that educates and empowers its members with accurate, up to date, evidence-based information about the management of all forms of CRC.  With input from leading CRC experts around the country and constant oversight from its cabinet and community leaders, COLONTOWN is a one-stop shop for education, information, emotional support, and camaraderie for the newly diagnosed, seasoned CRC veterans, and caregivers.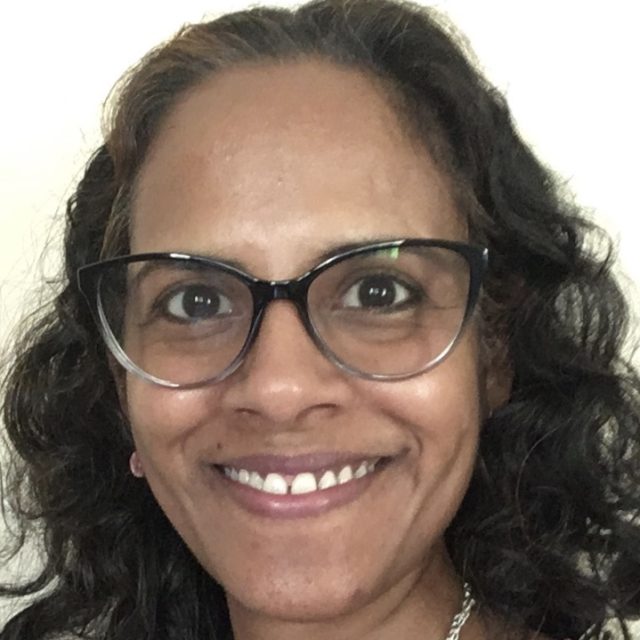 Manju George
Scientific Director, Community Leader
I am a Stage 3b rectal cancer survivor.
Immediately after my diagnosis in 2017, I joined COLONTOWN. By training, I am a DVM PhD, with post-doctoral training and research experience in Cell and Cancer Biology. After I joined COLONTOWN I became instantly aware of how I could use my background in Cancer Biology, to educate fellow patients and caregivers, as they navigated their cancer journey.

In COLONTOWN, I created, and now admin, the CRC101 educational neighborhood, which is a landing space for all new members. Here, I distill the highly technical CRC-relevant information available on the internet to easily-understandable nuggets. CRC101 attempts to provide people a "road-map" to their cancer journey and aims to facilitate CRC-specific learning, by meeting patients and caregivers at their level of understanding.


New COLONTOWN members, as they become "students of their disease," are able to navigate & utilize our Clinical Trials neighborhoods better. As Community Leader for COLONTOWN's Clinical Trials neighborhoods, I keep track of discussion in these groups and provide informational posts in non-technical language as necessary. We often see how this flow of information comes full circle back to patients' interaction with their physicians; recently, for example, I have been helping members understand the potential and use of liquid biopsies. As a result, we now see COLONTOWN members slowly educating their doctors about this novel testing strategy.

The time I have spent in COLONTOWN has greatly broadened my view of cancer research and in some ways brought the kind of clarity and perspective that is only possible with the experience of cancer as a patient. I am able to leverage this unique perspective as a Patient Advocate with the Stand Up to Cancer CRC Dream Team, various cancer and CRC specific meetings and conferences, and on Twitter (@manjuggm). This enables me to engage in discussions with leading clinicians and researchers in the CRC field and bring that information back to benefit the COLONTOWN membership. My impact in this advocacy space has been reflected in projects where I help bring patient perspective into clinical trial design.
In 2020, I joined PALTOWN staff as Scientific Director, formalizing my role across all these activities for the organization and for COLONTOWN.

I envision colorectal patient advocacy and education as an integral part of my life moving forward, and am looking for opportunities where my training, cancer experience and collective patient perspective gained from COLONTOWN can be used for the benefit of society.


Debbi Keller
Community Leader
I am an 11-year, early-onset, stage IV colon cancer survivor.  I'm a former special education teacher and own my own event planning business. In addition to my career, I have served on non profit boards as alumni chair, fundraising chair and president. I joined COLONTOWN in 2016 and took on a leadership role in 2018.  In 2019, I attended an Empowered Patient Leader seminar and continue to take on more responsibilities to support new members of COLONTOWN.
I use my involvement to give back to the community for the support it has given me.  Since joining COLONTOWN, I have become a better advocate for myself and enjoy empowering others.
In my spare time, I enjoy crafting, kayaking, travel, and spending time making memories with my husband, four adult children and fur babies.

Betsy Post
Deputy Mayor, Community Leader
I came to COLONTOWN as primary caregiver for my sister, Pam, who was diagnosed with stage four colorectal cancer in 2016. She endured numerous chemotherapies, surgeries, procedures, and hospital stays with a smile on her face and with a world-famous thumbs up. COLONTOWN became Pam's family. She loved meeting fellow patients and caregivers, both online and in person, and they certainly loved her. Sadly, Pam succumbed to her illness in December 2018.
COLONTOWN became as important to me as it was to Pam in the years I spent researching treatment options and connecting with other caregivers. I became the host for our liver metastases group, and then Community Leader for all the neighborhoods providing resources for metastases. I am excited to serve the community as Deputy Mayor for Caregivers on the COLONTOWN Cabinet.

Diane Myers
Community Leader
I am a stage II colorectal cancer survivor diagnosed in 2016. I have been with COLONTOWN for 3 years. I am Community Leader for the AGES AND STAGES groups. In this role, I oversee these groups, making sure that they are running smoothly, help to onboard new members and am in contact with the admins if there are any questions or issues. I also admin for the 2NDAVE. (stage II group) and MOTOR CITY CREW. In these groups, I make sure all posts receive responses, fire up important discussions and post current scientific articles pertaining to these groups.  I have attended 2 Empowered Patient Leader Workshops.
My goal is to make an impact on the CRC community by helping to improve screening rates, providing much needed support and connections, helping guide people to critical and potentially life-saving information they need in finding clinical trials or information on neuropathy etc. I am also currently a panel member of CRAN (Colorectal Awareness Network). This group is part of the American Cancer Society and its sole purpose is to raise the screening rate to 80%.
Helping others is my passion and I would like to share an amazing analogy that a friend, Charles, who I met at the 1st Empowered Patient Leader Workshop, shared with us at the workshop. He compared us to glowsticks. He held up a glowstick and said, after snapping the stick, a glowstick needs to be broken to shine. Just like us when we receive the cancer diagnosis, we feel broken but it also gives us an opportunity to shine by helping others and making a difference. COLONTOWN gave me support when I needed it the most and I hope that I can give that back to those who may feel lost in their diagnosis and are searching for help.

Fernando Ruiz
Community Leader
My name is Fernando Ruiz del Prado (but please call me Fer).
My favorite phrase is "Life is a Journey" because pretty much encapsulates the story of my life. Born and raised in Mexico City, when I turned 24, I grabbed two bags, my skateboard and my bass and headed to Boston, MA with enough savings to pay for my first year of college. I worked many jobs to pay for my education.  Fortunately upon graduation I was offered a job at WGBH 89.7 fm Boston's NPR as a production audio engineer.
By 1994 I also started my own production business and in 1995 I landed a large corporate communications account. But in June 1996 at 33 yrs. old my life came to a complete halt because I was diagnosed with stage III Colorectal cancer. Because of my young age it took almost too long to get to proper attention to my symptoms. Finally they reacted and went under major surgery followed by nine months of chemo.
Fast forward to June of 2019 when I rang my 22nd NED cancerversary!
My COLONTOWN journey: In 2010 Erika rang my phone, told me about COLONTOWN and invited me to March to DC two years in a row. I've continued to be involved with this wonderful organization.  In 2012 Life brought me Toronto, Canada and I moved full time in 2015.  Since 2017 I've taken on a deeper role because of my cultural and professional background experience. I started to work as an admin for several groups and helping as marketing & communications advisor for Erika and COLONTOWN.
In 2018 I attended the first EPL [Empowered Patient Leader] workshop in Washington DC.
Currently I am Community Leader for all the international groups [True North Crew in Canada, Straya group in Australia, Villa Colon group for worldwide Spanish Speakers, and Darmastad group for German speaking community.] I also help on the Beantown group (the Boston group).
I am also assist with branding, communications, marketing, fundraising, video production and serve as workshop producer & A/V guru. I've helped produced the Denver, Boston and Minneapolis workshop. I spend many hours a day and plenty every week tending to all these groups and all the branding and communications needs as well as working with PALTOWN staff on ways to fundraise and raise COLONTOWN's profile in the outside world.
But if you know Erika and COLONTOWN's story you'll understand why!  If you don't know either you'll want to!  My journey with PALTOWN is a labor of love.

Sandra Scott
Community Leader
I was diagnosed with Stage IV right-side colon cancer in January, 2007.  Recurrence in August, 2015, which I'm still dealing with.  I'm Lynch.  I've been with COLONTOWN since 2011.  Attended Call on Congress in the early days of COLONTOWN, and also attended the first Empowered Patient Workshop.  I am the Administrator for Sunshine State Crew, and Community Leader for all our local crews around the United States.  I love advocating, and helping others with their diagnosis.

Brian Spangler
Community Leader
I am a Stage 3b colorectal cancer survivor.  I joined COLONTOWN after my diagnosis in 2017.   I quickly learned how much I did not know about my diagnosis and treatments.  I still remember being asked if I was MSS or MSI, and I had no idea what that meant.
As a member,  COLONTOWN provided me with valuable information and resources. I learned the importance of having multiple planes on the runway.   More importantly I learned the importance of advocating for myself.
In 2018, I became a neighborhood host and admin.  I am currently an admin for the "3rd Lane" and the Healthy Gut Cafe and Fitness Center.  I am a student of Patient Advocacy and continuously try to learn as much as I can about  all aspects of colorectal cancer.  In the fall of 2019,  I completed the COLONTOWN Empowered Patient Leadership program.  I attended my first medical conference (ASCO GI)  as a Patient Advocate in January 2020.  As a neighborhood admin,  my goal is to stimulate robust conversations based on clinical trials and scientific data. I now serve as Community Leader for "The Circus," COLONTOWN's neighborhoods that focus on the cancer experience beyond treatments and stages.
My cancer journey has taught me to be mindful, prioritize and make the best of every sunrise.  I am an avid swimmer and enjoy being active outdoors all season long.    On the side, I am enjoying my career as an IT Leader in the health care sector.

Rachel Topper
I found COLONTOWN when my husband was diagnosed in 2017 with stage 4 CRC.  It was the community I had no idea I needed, but it saved my life and my sanity so I could be the rock my husband needed me to be.
It was an instant connection – finding people going through this with their loved ones, sharing experiences, information, support and sometimes just laughs.
A couple of weeks into my membership,  I was approached about becoming an admin.  I  wasn't sure it was something I could take on, but it was not a difficult decision.
Giving back to the community and helping others get through this journey is all I can do to control things that are out of my control.  This is what we do in the cancer world.  People usher us in and hold our hands and then we do the same when it's our turn.  I've found a huge group of people who are there for each other and I'm so thankful to be a part of this community and all it has to offer.