PALTOWN's commitment to patient empowerment extends to our professional staff, most of whom come from our community. Together we are working to provide connection, education, and training for the thousands of patients and caregivers  in our programs.

Susan Wysoki
Interim Executive Director
Susan has been an indomitable patient advocate and tireless researcher since the moment her 17-year-old daughter Jessica was diagnosed with Colorectal Cancer (CRC) in December 2016.
After Jessica's death in 2018, Susan dedicated herself to advocacy and awareness of CRC, looking at the environmental and epigenetic factors that may have influenced Jessica's early-onset cancer —From early exposures that increase the body burden of chemicals, to lesser known factors that may be quietly increasing the risks and incidence of inflammatory diseases affecting the microbiome.
After the positive response to her work, as the only non-medical professional invited to address international researchers and clinicians at the Early-Onset CRC conference, she was asked to present her research to the National Institutes of Environmental Studies, a division of NIH.
Susan spent most of her professional career in marketing and public relations as a VP of the global communications firm Hill and Knowlton, where she advised CEO's, Fortune 500 companies and foreign governments. In the healthcare arena her clients included Bayer, SmithKline Beecham, Johnson & Johnson, DuPont Pharmaceuticals, Bristol-Myers Squibb (BMS), and Novartis Pharmaceuticals. Susan led global multi-disciplinary teams, developed and executed national and international media and marketing campaigns, corporate communications and product launches.
Susan coordinated the media launch of the iconic U.S. Postal Service Breast Cancer Awareness stamp which has raised more than 87 million dollars since its inception. And on behalf of Bayer, she directed the original campaign to educate the public about the connection between aspirin and reducing the risk of both first and second heart attacks, something that is now widely accepted.
Susan has advised dignitaries and foreign governments including Botswana, Chile, China, Finland, Italy, Israel, Spain, Macedonia, and Indonesia on issues relating to tourism, biomedical research, technology transfer, trade policy and foreign direct investment.
She holds a B.A. from Middlebury College in Political Science and International Affairs and a Certificát from L'Université D'Aix en Provence Aix, France.
She started her career in publishing with Vogue & Vanity Fair, was a script writer for CNN and authored the book Winks from Heaven. Her work has been published in More, Glamour, Self, Pregnancy, Southern Living, Fitness, & Psychology Today.
COO & Program Manager, PALTOWN Development Foundation
Seybold began her career as the first Web editor for the American Society of Clinical Oncology, and soon moved to the National Cancer Institute, where she built a web-based initiative to increase understanding of and participation in cancer clinical trials. While at NCI, Seybold participated in a number of high-level initiatives surrounding the push to develop a unified, branded web presence (now cancer.gov) for the Institute.
Seybold spent 16 years consulting to clients in the health information, biomedical, and public health fields as an information architect and user experience practitioner. Clients include several institutes at the National Institutes of Health, the Department of Homeland Security, the Department of Education, Memorial Sloan Kettering, and Johnson & Johnson.
Seybold co-founded the PALTOWN Development Foundation, a 501(c)3 corporation, in 2016. The Foundation develops and manages online support communities for patients and caregivers affected by serious disease.
Seybold holds a B.A. in Humanities and M.A. in Medieval Studies from Yale University.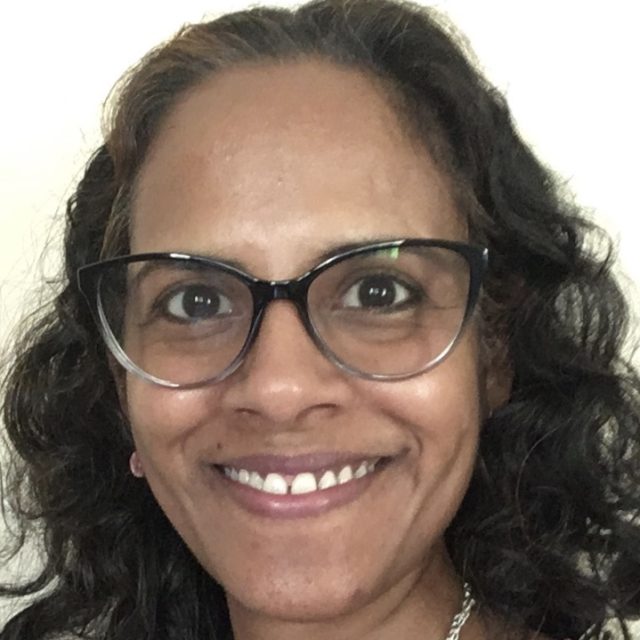 Manju George
Scientific Director, Community Leader
I am a Stage 3b rectal cancer survivor.
Immediately after my diagnosis in 2017, I joined COLONTOWN. By training, I am a DVM PhD, with post-doctoral training and research experience in Cell and Cancer Biology. After I joined COLONTOWN I became instantly aware of how I could use my background in Cancer Biology, to educate fellow patients and caregivers, as they navigated their cancer journey.

In COLONTOWN, I created, and now admin, the CRC101 educational neighborhood, which is a landing space for all new members. Here, I distill the highly technical CRC-relevant information available on the internet to easily-understandable nuggets. CRC101 attempts to provide people a "road-map" to their cancer journey and aims to facilitate CRC-specific learning, by meeting patients and caregivers at their level of understanding.


New COLONTOWN members, as they become "students of their disease," are able to navigate & utilize our Clinical Trials neighborhoods better. As Community Leader for COLONTOWN's Clinical Trials neighborhoods, I keep track of discussion in these groups and provide informational posts in non-technical language as necessary. We often see how this flow of information comes full circle back to patients' interaction with their physicians; recently, for example, I have been helping members understand the potential and use of liquid biopsies. As a result, we now see COLONTOWN members slowly educating their doctors about this novel testing strategy.

The time I have spent in COLONTOWN has greatly broadened my view of cancer research and in some ways brought the kind of clarity and perspective that is only possible with the experience of cancer as a patient. I am able to leverage this unique perspective as a Patient Advocate with the Stand Up to Cancer CRC Dream Team, various cancer and CRC specific meetings and conferences, and on Twitter (@manjuggm). This enables me to engage in discussions with leading clinicians and researchers in the CRC field and bring that information back to benefit the COLONTOWN membership. My impact in this advocacy space has been reflected in projects where I help bring patient perspective into clinical trial design.
In 2020, I joined PALTOWN staff as Scientific Director, formalizing my role across all these activities for the organization and for COLONTOWN.

I envision colorectal patient advocacy and education as an integral part of my life moving forward, and am looking for opportunities where my training, cancer experience and collective patient perspective gained from COLONTOWN can be used for the benefit of society.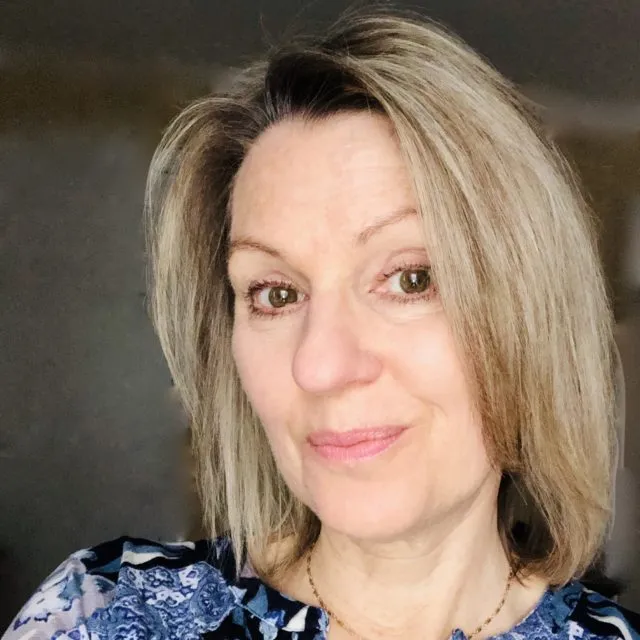 Marie Sander
Development and Management Associate
I am a breast cancer survivor and a stage IV crc patient. I joined COLONTOWN in 2016 on the advice of a friend, and I have found it to be the best online group for support and education for colorectal cancer patients. The education and peer to peer medical advice I've received helped me make critical decisions in my treatment plans. The level of knowledge from members who are patients, caregivers, and medical professionals is superior and invaluable.
In 2019, after having to take medical leave from my job of 13 years, I took a step back into the professional world by joining PALTOWN's first group of interns. I was able to use my prior experience in fundraising to help with the work of supporting our programs, and began to work with both CEO Erika Brown and COO Nancy Seybold on many other projects; in a small organization, everyone wears many hats! I attended one of PALTOWN's Empowering Patient Leaders Workshops late in 2019 and have stepped up as an admin of our New Jersey and Pennsylvania local crews.
PALTOWN is growing, as our programs reach more patients and caregivers and our training initiatives. As part of that growth, I moved into a part-time staff position at the end of 2019, focused on development and program management.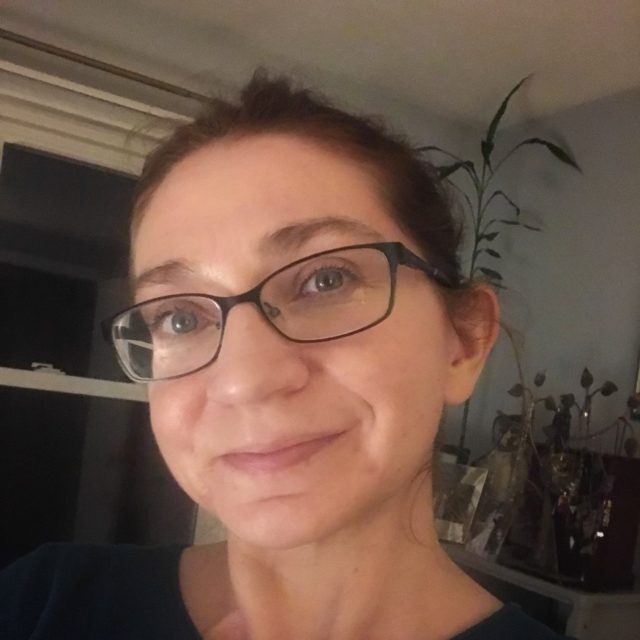 Lauren Hindman
Social Media Manager
I was diagnosed with Stage III colorectal cancer in 2017 at age 35, which progressed to Stage IV sixteen months later. A friend introduced me to COLONTOWN, which became instrumental in helping me learn how to manage my disease and provided the support I needed to navigate life as a wife and graduate student with cancer. Now in "no evidence of disease" status for the second time, I want to make sure that more cancer patients can find the support that this community offered to me.
In my role as Social Media Manager, I oversee the digital media strategy for PALTOWN and COLONTOWN, drawing on my 12 years of experience working in marketing and communications. I hold a B.A. in journalism from Indiana University and a M.S. in sport management from Drexel University. Currently, I am a Ph.D. candidate and teaching associate at the University of Massachusetts, Amherst, in the Isenberg School of Management, and an instructor at Brandeis University in the digital marketing and design graduate program.

Dennis Arrivillaga
Training Manager
My family has been affected and separated by colorectal cancer. We lost my oldest brother in 2016. He was 39. He left us too young, too soon.
But being purposeful and aligning my life with my niece, nephew, and parents helps me cope. Marvin left too soon. My duty and responsibility are to carry on the advocacy he started and to keep his memory and efforts alive. I do it for myself, my parents, my other brother, and my niece and nephew, who are left without their courageous dad.
These kids need to know who their dad was and to get the word out as far as screening, so fewer families get separated by this horrible, disruptive, destructive disease.
COLONTOWN Community Staff

Lindsey Musick
COLONTOWN Mayor
I am a single mom of 3 beautiful babies and I have stage IV colon cancer. I am a big city gal in rural Appalachia and strive to dedicate my energy towards colorectal cancer patient advocacy, education and support.
I was diagnosed as a stage 4 patient at the age of 37 after a dramatic ER visit where they discovered 13+ liver mets and a high CEA level. I was initially overwhelmed by my diagnosis and realized that I needed to learn everything I could about this cancer and how to survive. I discovered the COLONTOWN community online, where I met young moms and dads just like me juggling family and a devastating diagnosis. I was immediately surrounded with cutting edge medical information, resources on every aspect of life with cancer, and forever friends who knew what I was dealing with through this diagnosis.
I traveled to Boston in spring of 2019 for PALTOWN's Empowered Patient Leader Training. The group challenged me to seek second opinions and push for surgical options. I took their advice and found a team who was willing to attempt surgery. I officially became NED in March 2020 after 2 surgeries and 20 months of chemotherapy.
I look forward to giving back to COLONTOWN for literally giving me the tools to extend my life. I am thrilled to be a part of the leadership team of this groundbreaking and original community as we seek to save and improve the lives of cancer patients around the world.

Diane Bendtsen
Deputy Mayor, Onboarding and Administration
When I received the call telling me that yes, indeed I had cancer, I was not really surprised. With my history of Crohn's Disease and family colorectal cancer it was basically inevitable. I was diagnosed in March of 2012 with Stage IV right sided colon cancer. Unfortunately, even though I was MSI-high, it was before the immunotherapies were being used. I underwent 14 months of chemo and 8 weeks of radiation and was lucky enough to be declared NED.
The time I have had dancing with NED has been spent trying to advocate and help others. COLONTOWN has given me the best outlet for my advocacy. I have taken a leadership role and have also helped train others. I onboard new members daily and the number of our members keeps growing even though we are continually losing our friends. COLONTOWN has given me the purpose to continue and work towards the day when COLONTOWN is no longer needed.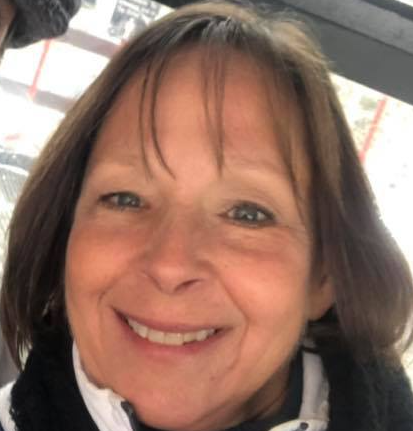 Kim Austin
Deputy Mayor, Community Leader
I am a Stage IV colorectal cancer survivor, diagnosed in 2013. I've been part of the COLONTOWN community for more than four years. After joining, I quickly took on leadership roles. I serve on the COLONTOWN Cabinet as a Deputy Mayor, am the Community Leader for our BLUE LIGHT SPECIAL COMMUNITY and am also a Neighborhood Host for numerous groups. I have attended and helped present at all of PALTOWN's Empowered Patient Leader Workshops.
COLONTOWN has given me a voice and a purpose that I never dreamed possible. Helping others "Find their people" is a passion.

Julie Clauer
Deputy Mayor
I am living with a chronic disease known as Stage IV colorectal cancer. I am one of the growing many of early onset patients with no family history or typical risk factors trying to figure out how to juggle treatment, raise a toddler, and shift just about everything to coexist with cancer. I passionately believe that knowledge and compassion help increase positive outcomes for those with cancer in their lives. COLONTOWN provides both of these in such a unique way and I am thrilled to participate in and further that mission.

Betsy Post
Deputy Mayor, Community Leader
I came to COLONTOWN as primary caregiver for my sister, Pam, who was diagnosed with stage four colorectal cancer in 2016. She endured numerous chemotherapies, surgeries, procedures, and hospital stays with a smile on her face and with a world-famous thumbs up. COLONTOWN became Pam's family. She loved meeting fellow patients and caregivers, both online and in person, and they certainly loved her. Sadly, Pam succumbed to her illness in December 2018.
COLONTOWN became as important to me as it was to Pam in the years I spent researching treatment options and connecting with other caregivers. I became the host for our liver metastases group, and then Community Leader for all the neighborhoods providing resources for metastases. I am excited to serve the community as Deputy Mayor for Caregivers on the COLONTOWN Cabinet.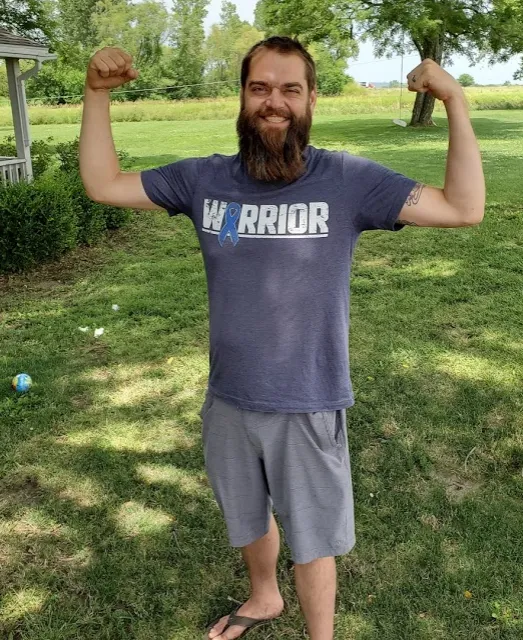 Jason Randall
Deputy Mayor
I am a Stage 4a colorectal cancer survivor.
I was diagnosed in 2018 at the age of 35 and this news sent my life into a tailspin. I was told I was inoperable due to the extent of cancer in my liver, would be on chemotherapy for my entire life, and that everything we were doing was to extend my life or for palliative reasons. Not what you want to hear ever, let alone when you are 35 and with 2 young children and another on the way. It affected my wife tremendously as well. We understand the emotional, mental, and physical stress that comes with a terminal cancer diagnosis and found COLONTOWN about 6 months after being diagnosed, with both my wife and I joining various neighborhoods within the community.
This turned out to be a game changer for me as I found a recommendation in COLONTOWN for a CRC liver surgeon. This led me to get a 2nd opinion with this doctor, and eventually, surgery. It changed my life. I have been declared NED and no longer receive chemotherapy, but actively monitor with my oncology team with methods and tests I learned about first in COLONTOWN.
I have experienced many up and downs on the rollercoaster of cancer (chemotherapy, embolizations, ablations, ileostomy and reversal, mental health, fistulas, colonic stents and them failing, physical health, integrative medicine, surgeries, etc.) that I am not shy about sharing with others. I am an analyst by profession, GIS Analyst, and research extensively not only at my work but about my disease as well.  I believe my knowledge and perspective of cancer from someone who has lived it can benefit other patients in ways that doctors cannot grasp at times. While I am brutally honest in my approach, I also am very optimistic and positive and want to help others after finding my own voice after my cancer experiences and taking charge of my health. It has lit a fire in me that I have never felt before and I want to help others now if it is within my capabilities.
I am honored to be a part of COLONTOWN and to be able to help. I will continue to strive and advocate for our community and helping others in their own quest of taking control of their health and wellbeing and connecting with others within the community.

Steve Schwarze
Deputy Mayor
I am a Stage IV colorectal cancer patient (MSS, BRAF-mutated) who has been connected with COLONTOWN for about four years.
After participating as a regular member, I attended a workshop in October 2018 to become an "Empowered Patient Leader" in COLONTOWN. I helped build and lead our ten neighborhoods that are focused on clinical trials. We have 1,000+ in our MSS TRIALS neighborhood, and smaller numbers in others (MSI, RAS, BRAF, HER2+, CHEK2, Anal, CAR-T, and NIH). In this role I oversee discussions about clinical trials and treatment options, and act as a liaison between members and several top CRC oncologists to help answer patients' questions.
In the spring of 2020, I worked to facilitate the transition of COLONTOWN to a member-led model as PALTOWN expands. I now sit on the COLONTOWN Cabinet as a Deputy Mayor. I am also leading PALTOWN's new Clinical Trials Navigator program, which trains community members to help fellow patients learn about clinical trials and navigate the process of making decisions and enrolling in those trials. My day job is Professor of Communication Studies and Director of the Climate Change Studies Program at The University of Montana in Missoula, MT.