Welcome to Sydney's Corner!
My name is Sydney Topper and I am the marketing and digital communications intern for PALTOWN! I hope to use this platform to make weekly posts about upcoming events and all things PALTOWN/COLONTOWN.
A little about myself and my family: I'm 16 years old and I live in the Northern Virginia area, about an hour outside DC. My father was diagnosed in October of 2017 with stage IV Colon Cancer. He's doing really good, and my family has grown a lot over the past year and a half. We live every day to the absolute fullest and our family bond is stronger than ever. We make sure we always have family dinners, even in the middle of all the chaos. We are also very active; always on the go trying to find our normal.
My mom, Rachel, is very involved in the COLONTOWN groups as well! If you ever met her in person, or talked to her over the phone, she is truly one of the funniest people on planet earth. If you ever just need a laugh, friend her on Facebook! She's an admin for the CAREPARTNER CORNER. Over the past year, I've seen her help so many people and I'm BEYOND grateful that she's my mom!
My brother, Eli, is really one for the books. He is so caring and kind, his compassion for others and his sense of humor is something I've never seen. We have always been close, and we continue to get closer every day. He enjoys basketball, football and playing video games.
My dad, Craig, is the strongest person I know. His first surgery was in October of 2017, and it was successful, as the surgeon cut out a baseball-sized tumor from his colon. In January, he had another surgery to cut out any of the remaining tumors. That surgery was also successful as his scans continue to get better and better every time!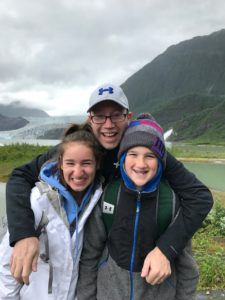 I'm very involved with my school's marketing club, DECA. DECA prepares emerging leaders for future opportunities in the world of entrepreneurship, finance, hospitality, and marketing. Through DECA, I have found that I am truly fascinated by the marketing world. I will also hold an officer position during my senior year and will attend the International Career Development Conference in Nashville. I also plan to major in marketing and communication in college.
Asides from DECA, I also play Travel volleyball. During the summer we play beach volleyball and the winter is reserved for the indoor team! Volleyball has truly shaped me into the person that I am today, and it is something that I will be forever grateful for.
As I start this blog, I hope to dive deeper into the neighborhoods that COLONTOWN provides, as well as grow the PALTOWN name.